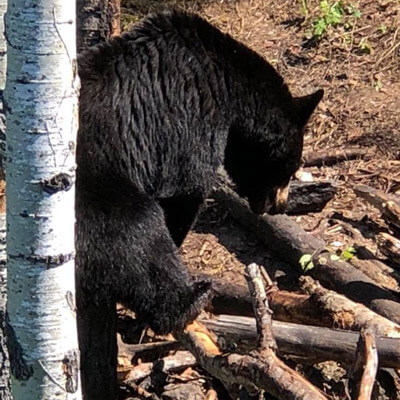 Kamkota Lodge offers a six-day all-inclusive full American plan guided Black Bear hunt from our tent camp down river at Sandfly Lake. We pick our hunters up at the Saskatoon Inn in Saskatoon, SK and drive them up to the lodge. A five and a half hour trip. At the lodge, our guides take the hunters by boat down  river to the base camp 25 miles.
Our tent camp is no ordinary camp, with showers and a dedicated cook serving home cooked meals, to warm comfortable outfitter tents and relaxing sleeping cots. As an added convenience, 24-hour power supplied by generators for those that require CPAP machines.
All baits are accessible by boat only, which also provides for great Walleye, and Northern Pike fishing, which is all included along with guides. Although black is the most common color, color phases are very common as well. Baiting retrieving, skinning, freezing, total care of your trophy is all included. Upon completion of your hunt, you are driven back to Saskatoon.
The price of the hunt is $5500 US includes hunting and fishing licenses, also GST, and PST taxes. Gratuities and personal etc. are extra. Kamkota Lodge requires a $2500 deposit to confirm your date, followed by the balance to be paid in full by May 1st previous to the confirmed date, payment may be made by cash, cheque, or money order.